Before you do anything click the link below and follow the instructions to download a manual for your quad
Honda Manuals
Alright . . . here it is for the people that always have questions about this subject. I have been thanking about writing one up for awhile but haven't got around to it. So here we go. . .
Jetting in quads is a neccesity even when you buy a new quad and plan on riding it hard its best to go ahead and upgrade to a little larger jet.
Since I own and race a 400EX that is what I am going to be using as my example.
Factory jetting is 148 main jet with 38 pilot and 2 turns out on the air/fuel screw. This is actually a little lean for EPA standards so Honda looks good. First thing to do is atleast bump the main jet up to a 155.
Here is a Diagram to show what I am talking about.
Key:
For 400EX 99-04
Pilot jet-slow jet
air/fuel screw-pilot screw​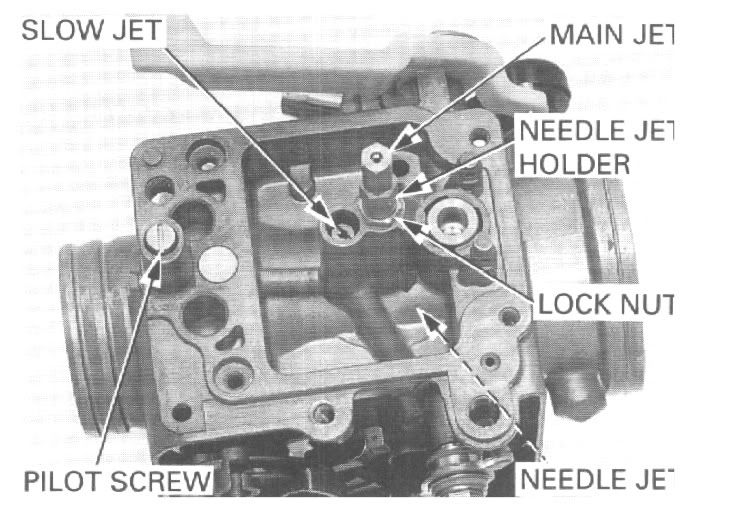 Key:
For 400EX 05-09​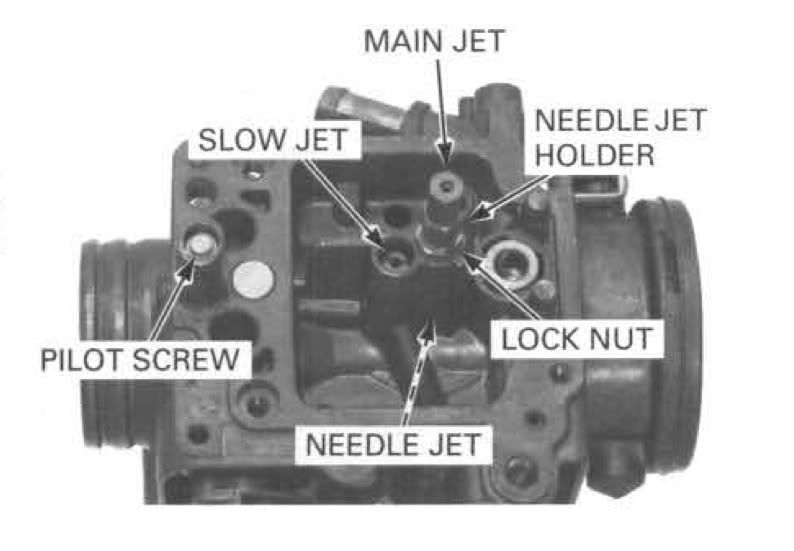 Now when adding performance parts to a quad that increases airflow to the motor and out the motor REQUIRES more fuel. The jet sizes depends on the parts added and the brand of parts. For ex. a K&N air filter requires a bigger jet than a UNI filter because its a higher flow filter.
Signs that your jetting is wrong:
-header glows red, backfire on deceleration, plug is a white color, quad gets hot very quick -- these are signs that your jetting is to small and you need larger main jet and you might need to run your pilot screw 1/4 turn out
-bogs on acceleration, hard to start, plug is a dark brown color, quad doesn't feel like its at its full potential -- these are signs that your jetting is to big and you might need to turn your pilot screw in a 1/4 turn or more
To check plug color you have to fire up your quad let idle till its warm or ride it till its warm then take it on a decent size stretch and go full throttle in 4 or 5 most will tell you 5 but it really doesn't matter as long as your motor hits max rpm. As soon as its at the time to shift pull the clutch in and kill the motor. Then coast back to your house or stop on the side of the road and pull your plug out. If its a nice tan color then your good. If its a dark brown or black color your to rich or if its a white or light grey your to lean. The end of your spark plug is what matters on the very bottom(the L part). If you have a white color or dark brown color in the middle of the L bend then your pilot screw is off.
Depending on your altitude and the size of your pilot jet/slow jet determines the size of main jet you should use.
For quads with no motor work, a slip on and filter (main application for everyone on here)
These are for stock slow jet of 38 (for slow jet of 42 take off 5 main jet sizes)
(for 450R's take between 10 to 15 sizes off of the main jets of the 400EX)
Cross Reference of Jet Sizes
ALTITUDE IN FT.
400EX
(Factory main jet #148)
altitude below 1000
main jet 175 to 185
pilot screw 2 1/2 to 3 turns out
altitude between 1000 to 2500
main jet 165 to 175
pilot screw 2 1/4 to 2 3/4
altitude between 2500 to 5000
main jet 155 to 165
pilot screw at stock​
300EX
(Factory main jet #122)
altitude below 1000
main jet 145 to 155
pilot screw 2 1/2 to 3 turns out

altitude between 1000 to 2500
main jet 135 to 145
pilot screw 2 1/4 to 2 3/4

altitude between 2500 to 5000
main jet 125 to 135
pilot screw at stock​
Now if you plan on doing more that requires more fuel. A hotter spark plug requires bigger jet as well. For those who ride in dunes need to be 5 bigger on there main jet from the altitude listing above. For those of you who have changed your slow/pilot jet up to a 40 or 42 your jetting will be on the lower end of the main jet sizes listed above.
For machines that have extensive mods you can leave me a message on my profile. This is for people with motor work and head work that needs more attention to detail with jetting.
Remember this is just a starting point and every quad is different this is just to help us keep from having to answer the same questions all the time.
For questions on utility quads ask helmut or one of the other guys that are good in that area for snorkeling and other mods.
If you have suggestions on anything that you thank should be different just write it below and ill fix it.
THANKS AND I HOPE THIS HELPS NEW MEMBERS!!!!!!!!