Discussion Starter
·
#1
·
Stopping in to say hI. MY names Joe from southern NJ I a wrencher by trade.
I have a 04 RINCON GPS i pick up early in 06 left over.
ATM im doing service and mods i just took off the snow plow 4days ago
(slacker) I have not done much riding in the last 2 yrs but im trying to get my but back in gear.
I enjoy mud, rock crawling and over all trail riding.
A few mods i have done Warn bumper/winch self built exhaust snorkel+ hitch
I cliped the carb sping ( alittle) Rear cargo box , HL springs, spaced the oil cooler.
ON order 2" lift and GBC grim reapers 26" i did not wanna get new rims.
about to order HL temp gauge.
As i said im doing servicing new plug, engine ICE adjust valves. I had a over heating problem where the oil cooler><rad where packed soiled even tho after each trip a hose out the rad.
Looking forward to read threw the forums for a few tips/tricks.
and now for your viewing pleasure, took a few years ago.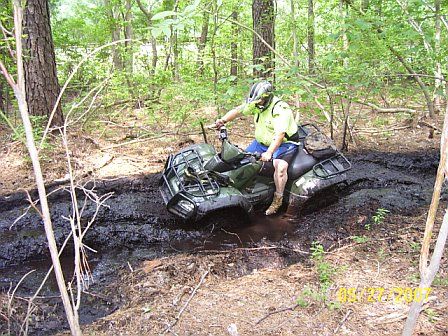 http://i21.photobucket.com/albums/b253/unclejpl4x4/Picture044.jpg
http://i21.photobucket.com/albums/b253/unclejpl4x4/IMG_09931.jpg
http://i21.photobucket.com/albums/b253/unclejpl4x4/Picture169-1.jpg