Found this site looking for spec info on 300ex upgrade info.
Glad I have.
I am a auto dealer in GA but my hobby is restoring old atv's
List of current bikes.
2001 300ex Less then 20 hrs on original motor/piston.Sat for 4 years
1987 250ex Runs perfect stock motor,no smoke,
1986 quadracer 250r fresh rebuild,powder coat etc(my baby) fast as hell
1985 quadrunner lt185 Old reliable,smoking a little,will be going 10 over in say 5 years,lol
2003 ds650 to dang fast,biggest atv I have ever been on,scary
1996 bayou 220 runs great,no smoke.I am installing new timing chain,guides,clutches and outer cover gaskets as soon as the parts show up from the brown cow.
I will post pictures soon and look forward in sharing and knowledge I may be able to help others out with there projects.
2004 ltz400 with 440 kit,and another 5K in mods.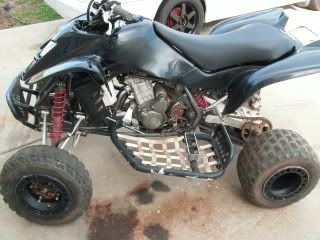 Some 2 wheel toys
1999 tl 1000r with a little work
1992 Paul Russel edition Ninja 750r