Discussion Starter
·
#1
·
Longtime Honda rider, new to the forum.
Up here in the vast emptiness of northern MN, i spend a lot of time on my wheeler. It takes me fishing in the summer, hunting in the fall, plows the driveway in the blustery MN winter, and muddin' in the spring. Now, i've owned quite a few three-wheelers, too --- i had a sweet '83(?) Big Red that i wish i still had --- but that changed in '99. i bought Foreman 400 new in June of that year, and it has been a trusted companion ever since.
Let me tell ya: treat these machines right --- change the oil, watch your tire pressure, wash it a couple of times a season, maybe even treat it to some ArmorAll --- do that, and there's no doubt
whatsoever
the machine will treat you well in return.
Two-up riding is okay, i guess, but with three kids and a very understanding (second) wife it's hard to please everyone. So... i jumped at the chance to buy an '04 Foreman 450ES just a couple of weeks ago. This poor neglected thing had sat unused for four years --- two in the brutal elements, two in a garage --- and it had less than 200 miles on it. i picked it up for 2300$... new battery, main jet, and the back-breaking labor of freeing up the front hubs (moisture condensation stuck the shoes to both drums), and i've got a very nice ride that's practically brand new.
Here's the two of 'em together, because even though i like the new one, i'll never disrespect the old one. She's a tough ol' bird...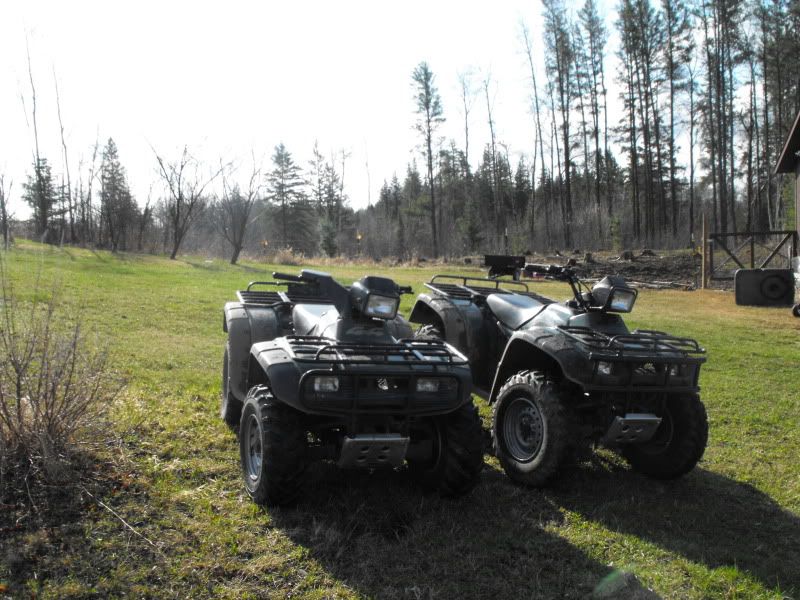 You'd think that i'd get to ride the 'new' one, right? You'd think wrong. The wife's all but taken it over, so when we go muddin i'm still on the 400. Go figure...
Anyhoo,
greetings from northern MN
! i hope to utilize the forums to learn a bit more about these fine machines, and maybe swap some tales. Thanks for listening...