Discussion Starter
·
#1
·
Let the voting begin for the August 2018 Honda ATV of the Month! We will leave the poll open until the end of the month and then announce the winner. We got some really good pics this month, thanks to everyone that participated and GOOD LUCK!!
M_Quick
2008 Trx700xx AMR Reaper Custom Graphic Kit, Hidden Comfort Camo custom Seat Cover, Ehs Big 3, P/P head, Xcalibur Cam, Hard Welded Rockers, +1 In/Ex Valves, +3 Throttle body, 11:1 CP Piston, EHS Lid w/all vents, Uni Filter, L8ton 11/16th Sway Bar, PRM 0.160 Front A-Arm Guards, Desert II Front Bumper, Rear Utility Rack W/Dual S3 T-5500 Water/Dust Proof Case's, Honda Racing Nerf's & Full Skid Plate, Pro Taper Contour 1 1/8" Bars, Odi Lock on Grips, Precision Racing Shock & Vibe Handlebar Clamp, Mod Quad Billet Shifter, Rear Brake Delete, Throttle & Brake Cover Set. GBC Motorsports XC-Master Tires on OMF Performance Reinforced DWT 0.190 Wheels, Black Knight 14" LED Bar With Race Optics.
Goober
1993 TRX300FW–lean and mean as an airborne ranger!
This 25 year old former state GFP rig was purchased at auction needing a cooling fan relay, oil sensor, complete carb overhaul, brake master cylinder rebuild, a new seat and some fender guards.
Sergeant Pickle was issued:
Fan kit, cooling, OEM option
Guard kit, A-arm, OEM option
Wheels, OEM, powder coated Adventure Green
Tire set, Carlisle AT489, OEM spec.
Mount, plow, Cycle Country 15-1510
Mount, winch, KFI
Winch, KFI ST1700
redtherocket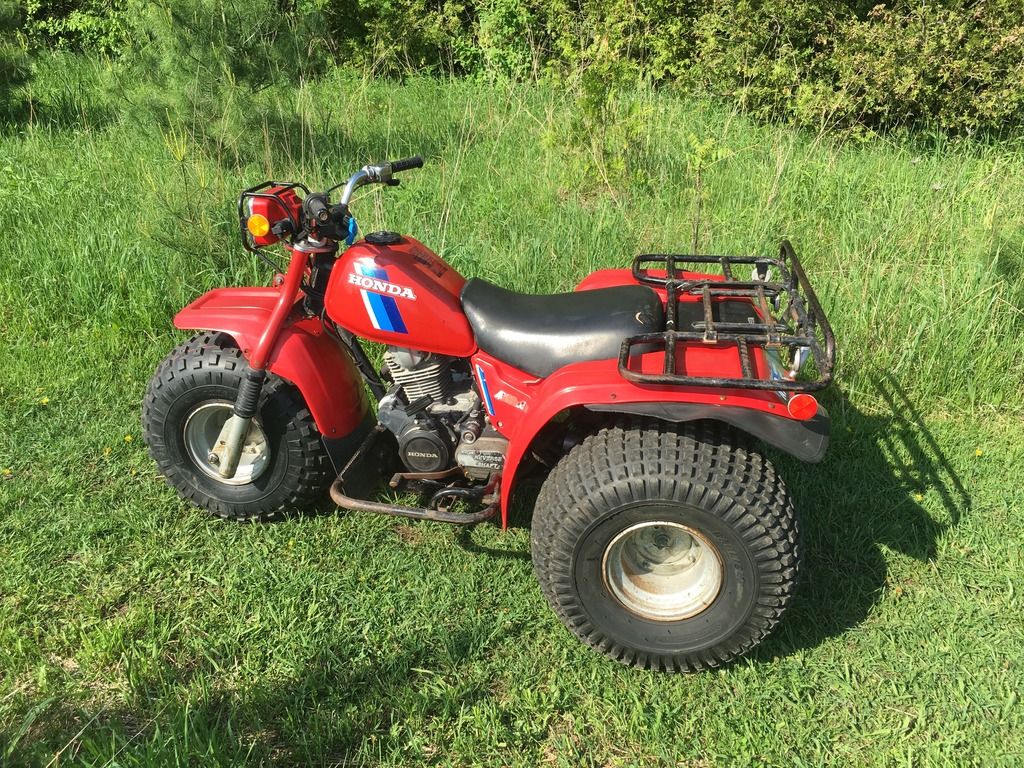 1984 200ES BigRed
Pretty much all original..