Discussion Starter
•
#1
•
So a little backstory, the first fourwheeler I ever rode was a TRX350D. The mountain I worked at when I was a kid had a small fleet of Honda's and this was the oldest so it was the usual go to for cutting and marking mtn bike trails and race courses. The body was hammered but mechanically it was such a reliable machine it always seemed to survive another year. Keep in mind they were used just about every day year round in central NH.
A buddy found this thing on one of the local FB groups and knew I had been looking for a manual shift Honda 4x4. Outside of that, I didn't really care what year it was from. It was listed as needing a fuel pump and was picked up cheap. I couldn't pass up saving this thing.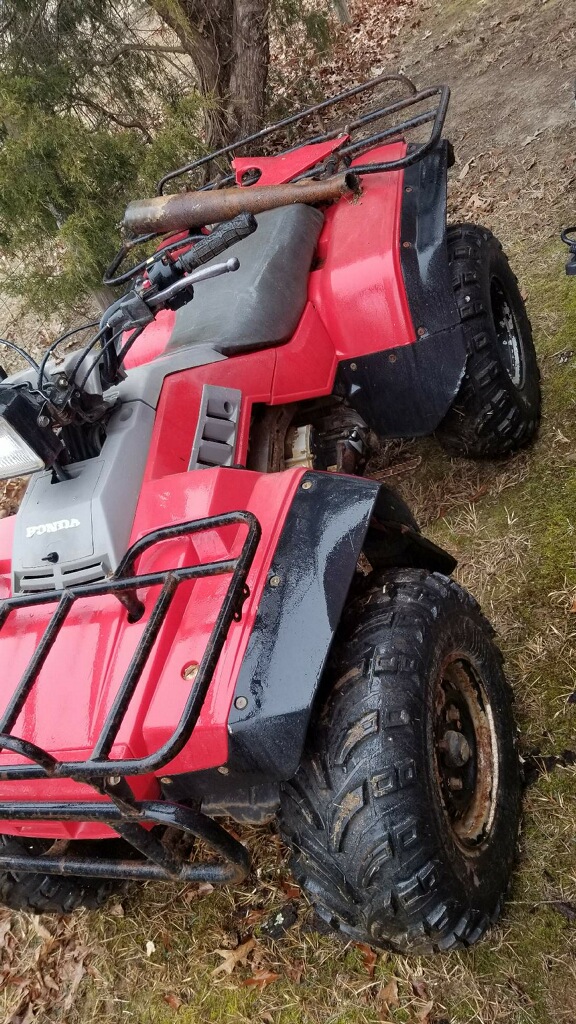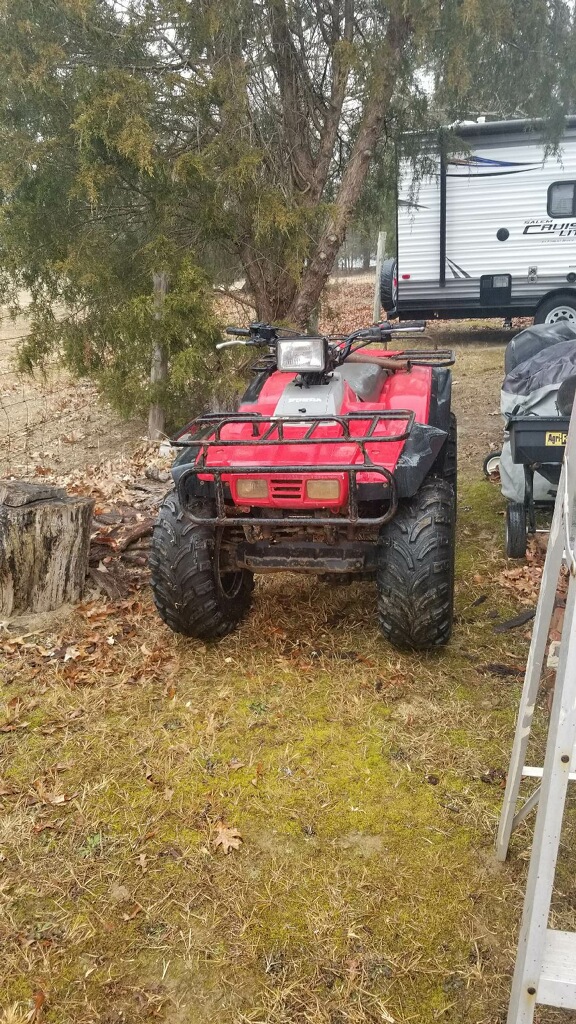 I've already got it in the garage and began tearing it down today to assess some stuff and get it cleaned up. It needs a serious bath of Simple Green and a visit with the pressure washer when its not 30* outside. For now, the rear plastics and racks are off so I can access everything fairly easy and get it all cleaned up.
What is wrong:
1) No Spark
2) Dead Fuel Pump
3) Front Wheel Bearings are a little worn
4) Steering stem bushing is toast so the handlebars kind of rock around on the steering shaft
5) Rear Brake Pedal cable snapped
6) Rear Brake Handbrake cable seized
I already have a slew of parts on the way. (Pump, Ignition Coil, CDI, Stator, Pickup Coil, Fuel Pump Relay, Ignition Solenoid, Both rear brake cables, Acerbis Handguards, ODI Rogue Lock On Grips) I figure whatever doesn't fix it will be saved as a spare since parts are getting harder to find. Bringing my meter home tomorrow to start ohm'ing out various parts so I have a direction once the parts all get here.
Today I grabbed a new battery and put it on the tender so it would be fully charged. When the ignition is turned on the oil light and neutral light come on as expected. Push the start button and the solenoid and pump click lightly but nothing else. I can jump the poles on the solenoid and the starter spins freely and will turn the motor over. Pulled the plug to check for spark, jumped the poles on the solenoid and tried kicking it and have nothing there so it looks like a combination of issues.