Discussion Starter
·
#1
·
I bought a 2002 Honda Rancher ES Saturday. The price was right and it runs good. The problem is I can't get the idle set right. Right now, it won't idle cold. That's annoying, but the real problem is once it warms up it starts idling up. It will sit there and idle right for a minute or two, then it'll idle on up to probably 3000 rpm. So I back off the idle a little and it idles okay for a little while, then it'll creep up again. So I keep backing it down, and it finally idles fair, but it still creeps up and down. And of course, the next time you start it cold, it won't even come close to idling.
I already checked obvious things like throttle cable too tight, throttle slide binding, and I checked for vacuum leaks by spraying ether all around the manifold and carb. All tests negative. I don't plan on taking the carb apart because this thing runs too good for the carb to be clogged.
I thought about trying to adjust the pilot jet, but I doubt if it's ever been touched. It's practically impossible to get to, because it's between the carburetor and the cylinder, pointing straight down. It would take a flat blade screwdriver about an inch long to get to it, and you'd burn your fingers for sure. Probably why Honda put it there, so you won't mess with it.
For one terrible moment, I thought it might be low compression causing hard starting. This would explain why it will idle hot but not cold. But this thing runs entirely too good to be compression related. It pulls STRONG. And compression wouldn't come and go, the way this does.
What I think it may be, is the little dooflachey at the top of the carburetor with hoses coming out of it. Here it is: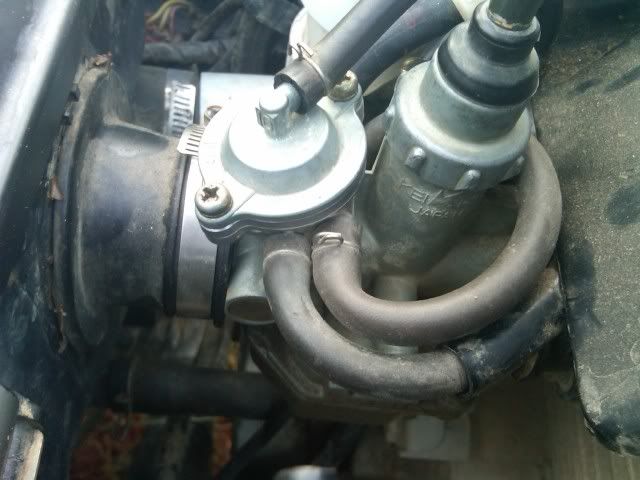 If I unhook the top hose, it will stall, like it's losing vacuum. Put your finger over it and everything's okay. There's a diaphragm and a spring in there, but everything seems to be working okay. There's no trash or sticking. I took out the diaphragm and it runs the same. I took the spring out and put the diaphragm back in and it seems like it may run a hair better, but the idle still isn't smooth.
A: What is all this crap for? Emissions? I have a shop manual but it doesn't mention this stuff at all. It calls the bottom part of the aforementioned dooflachey an "air cutoff valve body". all the other parts are just labeled "hose", "diaphragm", "hose", etc.
B: Any ideas on what might be causing my idle problem? I can't help but think it's fuel related. Ignition problems usually cause a miss, and there is no miss.
What do y'all think?